Skip to Content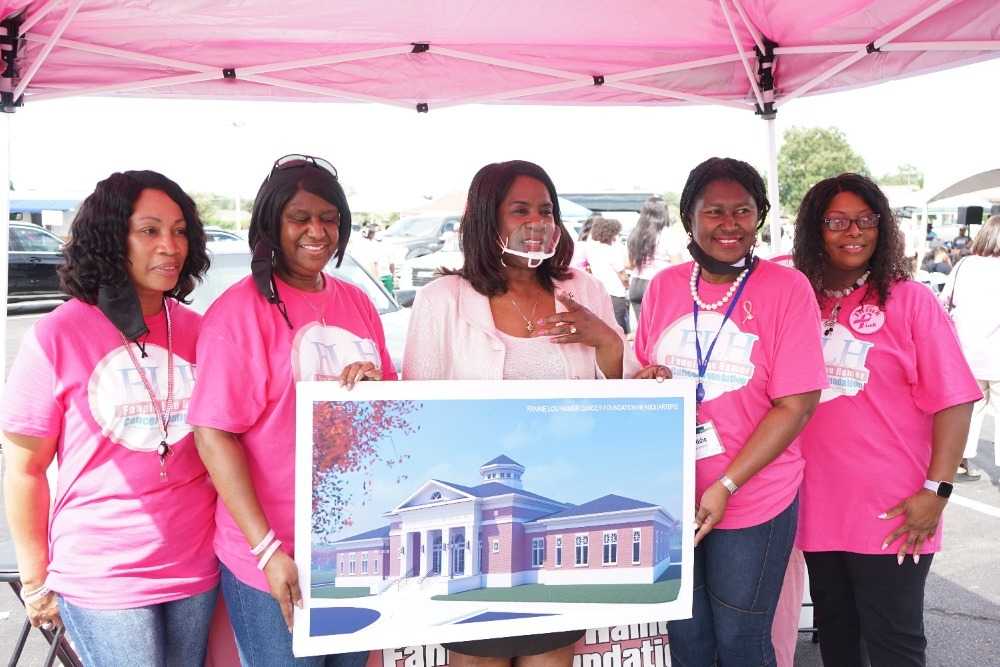 The Mississippi Health Project II: AKA Revisits Its Model for Community Health Care
Alpha Kappa Alpha Sorority, Inc. Revisits the Mississippi Delta
As a service organization, Alpha Kappa Alpha Sorority, Inc. (AKA) hosted health clinics in June and October of 2021 to administer medical care to underserved communities across five counties in and around the Mississippi Delta. Dubbed the Mississippi Health Project II, the mobile clinic underscored the same spirit of service demonstrated by AKA's previous Mississippi Health Project, carried out each summer from 1935 to 1942. Through local partnerships with the Delta Health Center, Mallory Community Health Center, and Walgreens, the clinics provided COVID-19 testing and vaccines, flu shots, HIV testing, vital signs screening, and eye and breast examinations. Participants included the Fannie Lou Hamer Cancer Foundation, named for the influential Civil Rights activist and lifelong Mississippi resident, who lost her life to complications from untreated breast cancer. Over the three-day period, a host of AKA volunteers worked with health care professionals and executives to serve hundreds of residents.
It's do or die for us. We're in an area that's often overlooked, that's underserved. So as a service organization, we're here to serve. . . . If we can save one life from this, we will have achieved our goal.
Glenda Glover, International President and CEO of Alpha Kappa Alpha Sorority, Inc., Video interview in Mississippi, June 7, 2021
AKA's Mississippi Health Project: A New Model for Community Medical Care
During the Great Depression, African American sharecroppers lived on remote plantations under oppressive conditions, lacking access to quality education and healthcare. In 1934, Ida Louise Jackson, president of Alpha Kappa Alpha Sorority, Inc., urged the entire organization to institute programs that would help eradicate such conditions. Soon thereafter, AKA established its first health project in Mound Bayou, Mississippi. When plantation owners refused tenants access to localized clinics, volunteers packed medical supplies into automobiles and brought their services to the families, creating the nation's first mobile health clinic. Directed by physician Dorothy Boulding Ferebee, a member of the Howard University Medical School faculty, the Mississippi Health Project provided critical care to over 15,000 residents from 1935 to 1942. The mobile clinic in Mississippi raised national awareness about health issues faced by rural African Americans in the South and eventually became a model for community-based medical care in both rural and urban communities.
Dr. Dorothy Ferebee
"New Horizons For Women"
Born to a prominent family in Norfolk, Virginia, Dorothy Boulding Ferebee (1898–1980) became a physician, administrator, and activist. Her father Benjamin Boulding worked as a superintendent for the U. S. Railway Mail Service, and her mother was active during the African American women's club movement. After medical school at Tufts, Dr. Ferebee began her private medical practice and would later become a professor of obstetrics at the Howard University Medical School and director of Howard University's Health Services. In addition to her activism as president of the National Council of Negro Women (1949–1953) and her work on local medical projects, Ferebee worked internationally. In 1951, she served as a delegate to the International Council of Women in Greece. The following year, she was elected to the World Council of the World YWCA. In 1967 President Lyndon Johnson appointed her as one of five delegates to the World Health Organization's twentieth assembly in Geneva, Switzerland.