Skip to Content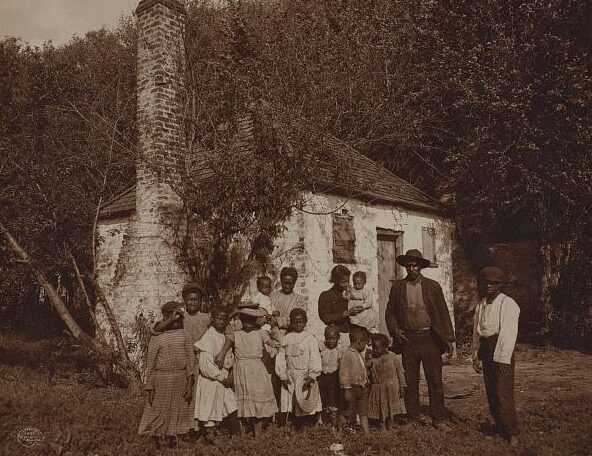 African Americans who endured slavery created cultures instilled with wisdom, beauty, and vitality. Living a dual life—one of hardship and one of community and faith—enslaved people turned their focus towards family, knowledge, neighbors, and joy, wherever it might be found. They found pleasure in a job well done, a child well-loved, a song, a story, or a gathering that rejuvenated the soul. Life was more than enslavement.
To Seek
Enslaved African Americans made a way out of no way by holding fast to their faith. Enslavers promoted Christianity as a means of control, but African Americans found ways to make it their own. Diverse faith practices helped enslaved African Americans survive the shared experience of slavery. Through word and song, dance and prayer, enslaved communities were strengthened by faith.
Many time while my hands were at work, my spirit was carried away to spiritual things.
The Collins Family Bible
Richard Collins bought this Bible after emancipation and wrote down all his family's names and birthdates as far back as he could remember. As his great-grandson shared, Collins never considered himself a slave. He was a man, with a family and a purpose. By listing his family members' names, he worked to humanize and remove them from the context of slavery.
Work
White and Black parishioners, enslaved and free, attended Edisto Island Trinity Episcopal Church. Rev. Edward Thomas recorded the names of enslaved Black people and their enslavers. His notes also reveal that free Black people lived on Edisto and married enslaved members of the African American community. The church recognized these marriages, but they were easily broken by sale.
Slave Gallery Pew
This twenty-foot pew is from the gallery of the Presbyterian Church on Edisto Island, founded as early as the 17th century. Enslaved African Americans were made to worship in the segregated church and attended service in the upstairs slave gallery. Many slaveholders preferred to have enslaved people attend church to hear ministers promote the morality of slavery.
Enslavement
Enslaved African Americans built churches across the nation. These same enslaved men and women were occasionally mortgaged and used as collateral to finance the church. Enslaved people were donated to the Edisto Island Presbyterian Church. They and their descendants were assigned to serve the minister and work the church's land, which supported him.