Skip to Content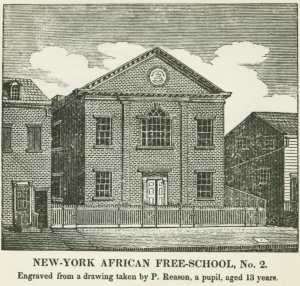 The First African American Physician
James McCune Smith and the Power of Education
James McCune Smith was born in 1813 in New York City. By the age of nine, Smith was enrolled at the New York African Free School No. 2 in Lower Manhattan. The school was founded in 1787 by the New York Manumission Society with the purpose of educating the children of free and enslaved African Americans. Smith's academic cohort included well-known African Americans such as the Shakespearean actor Ira Aldridge and the abolitionist Henry Highland Garnet. Even so, Smith distinguished himself from his peers and was chosen to give the address for the visit of famed French revolutionary, Marquis de Lafayette. After the New York Emancipation Act of 1827 legally granted Smith his freedom, he graduated with honors from the New York African Free School at age 15. Denied admission to American universities, Smith attended Glasgow University in Scotland with the financial support of benefactors.
Race and Medicine
At Glasgow University, Smith was trained in the field of quantitative public health, a combination of statistics, medicine, and social sciences. Within five years, Smith graduated with a bachelor's, master's, and medical degree, becoming the first African American to hold a medical degree. He was also the first African American author published in a peer-reviewed medical journal, and he opened the first Black-owned pharmacy in the United States, serving both Black and white clientele.
Smith's statistical prowess and anti-pseudoscience advocacy significantly influenced American views on race and medicine. His used statistics to refute findings from the 1840 Census, which claimed that emancipated African Americans were worse off than those who were still enslaved. Smith also spoke against phrenology, the pseudoscientific idea that head shape was indicative of intelligence levels among racial groups. And he rebutted, point-by-point, the claims of Black inferiority made in Thomas Jefferson's "Notes on the State of Virginia."
Freedom and Liberty are [not] synonymes. . . . Freedom is the gift of God; Liberty, the creature of society. Liberty may be taken away from a man; but, on whatsoever soul Freedom may alight, the course of that soul is thenceforth onward and upward . . . .
Abolitionist Politics
Smith's advocacy on race and medicine was part of his larger abolitionist politics. He met with Black activists at his pharmacy to plan ways to protect fugitive enslaved persons. He proposed a savings bank to financially empower African Americans, and he served as director of the Colored People's Educational Movement. Smith worked with Frederick Douglass to establish the National Council of the Colored People. The two men, along with Congressman Gerrit Smith and abolitionist John Brown, co-founded the Racial Abolitionist Party. Smith also authored the introduction to Douglass's "My Bondage and My Freedom" and contributed a weekly column to Douglass's newspaper under the name of "Communipaw."
James McCune Smith died in 1865 from congestive heart failure. His legacy was forgotten as his fair-skinned descendants passed into white society. Today, his descendants are reconnecting with his life, and Smith is remembered as a leading member of the antebellum African American intellectual elite.