Skip to Content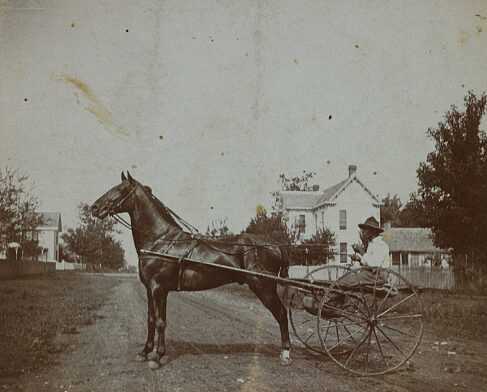 An African American Venturer
"Free" Frank McWorter, founded New Philadelphia, Illinois, the first known town to be founded and platted by an African American.
"Free" Frank McWorter
Frank McWorter was born in 1777 in South Carolina, the son of his enslaved mother and her enslaver, George McWhorter. Just before the turn of the century, Frank was taken to the slave state of Kentucky, where he met his wife, Lucy. They married in 1799, and though their union was not legally recognized, it lasted for over five decades. Frank was a driven and resourceful person determined to secure freedom for himself and his family. He combined small payments for his enslaved labor with the money he gained from producing saltpeter to purchase Lucy's freedom in 1817 and, two years later, his own. This earned him the moniker "Free Frank."
Founding New Philadelphia
Frank McWorter invested money into a tract of land in Pike County, Illinois. He, Lucy, and their free children, moved to Illinois in 1831. Frank established a farm to acquire the money needed to purchase the freedom of several other family members. In 1836, he purchased additional land near his farm, founding and platting New Philadelphia. Plots of land mapped out by "Free" Frank were sold to both Black and white buyers, making the town an early example of interracial cohabitation and cooperation. In the frontier town and relatively remote agricultural community, Black residents, in particular, enjoyed freedom and found community, security, and economic opportunity.
A Lasting Legacy
By the time of his death in 1854, "Free" Frank had purchased the freedom of all seven of his children, his daughter-in-law, and two grandchildren. He also left instructions to his descendants to continue purchasing the freedom of his grandchildren and great-grandchildren.
New Philadelphia continued to grow, reaching a peak of 160 people in 1865. However, the construction of railroads bypassing the town directed trade elsewhere, and the racial climate of Illinois negatively impacted further growth. By 1885, New Philadelphia was no longer legally recognized as a township, though the land remained occupied by a few residents until the 1940s.
Today, none of the original structures remain, but archaeological research is uncovering the material history of the town. New Philadelphia demonstrates how some formerly enslaved people built and sustained their own communities relying on their resourcefulness and familial networks.
Read More Lesser Known Stories