Skip to Content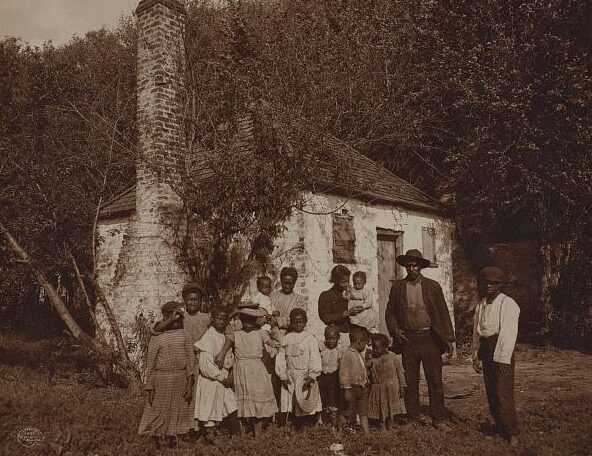 African Americans who endured slavery created cultures instilled with wisdom, beauty, and vitality. Living a dual life—one of hardship and one of community and faith—enslaved people turned their focus towards family, knowledge, neighbors, and joy, wherever it might be found. They found pleasure in a job well done, a child well-loved, a song, a story, or a gathering that rejuvenated the soul. Life was more than enslavement.
To Nurture
Living and working in an enslaver's home allowed enslaved African Americans to hear the latest news and spread it throughout their community. But enslavers were quick to punish, and domestic workers were often close at hand. She "used to beat me like a dog," recalled Delia Garlic. Enslaved women and girls continually faced the threat of sexual violence. They were forced to live with and care for the people who enslaved them, but their hearts remained with their families.
Life
A seamstress took great care and attention with this skirt made for Lucy Shirley when she was about six years old and enslaved in Loudon County, Virginia. Most likely a mother, grandmother, or caregiver used her talents to make sure that Lucy had a fine pin-tucked skirt that fit her position—a little girl, well loved.
Bonnets like this family heirloom provided little relief from the sun during long days working in the fields. Enslaved women served as field hands and domestic workers. After working long days, they found ways to care for their families before tending to their own needs.
My maw was cookin' in the house . . . she warn't afraid. Wash Hodges tried to whop her with a cowhide and she'd knock him down and bloody him up.
Work
As dressmakers, milliners, and seamstresses, enslaved women produced much of the fine fashion and beautiful needlework associated with elite southern white women. They produced ornate heirloom quality textiles, including delicate whitework and lace. Highly skilled, they passed on these trades to their children when they could. Their skills were highly valued and featured prominently in runaway ads and on auction broadsides. Such expertise enabled some women to work for themselves and, over time, to buy their way out of slavery.
Elizabeth Keckley, Activist Seamstress
Elizabeth Keckley, born in 1818 in Virginia, was an enslaved seamstress. Keckley purchased freedom for her son George and herself in 1855. She then moved to Washington, D.C., and became the personal dressmaker and confidante of First Lady Mary Todd Lincoln. She was also a philanthropist and activist devoted to the cause of freedom.
Raising Children of Enslavers
Enslaved African American men and women were often forced to raise children of their enslavers. They served as wet nurses, playmates and guardians of the child enslavers. Despite being forced to neglect their own children, overworked enslaved parents found ways to show care for their loved ones.
Enslavement
White enslaving women used special whips designed specifically for ladies, often called the cowskin. Notorious for their cruelty, women enslavers hit, whipped, or burned those who displeased them. Even worse, they sometimes blamed and punished enslaved women and young girls who were sexually assaulted by white men in the house. As Frederick Douglass recalled, "She would draw that cowskin and give them a blow, saying, 'move faster.'"