Skip to Content
African Americans who endured slavery created cultures instilled with wisdom, beauty, and vitality. Living a dual life—one of hardship and one of community and faith—enslaved people turned their focus towards family, knowledge, neighbors, and joy, wherever it might be found. They found pleasure in a job well done, a child well-loved, a song, a story, or a gathering that rejuvenated the soul. Life was more than enslavement.
"There has ben one bright hope to cheer me in all my troubles, that is to be with you."
Harriet Newby, to her husband Dangerfield Newby, 1859
The Mothers
For an enslaved woman, motherhood was precarious. Before their children were even born, African American mothers understood that their enslaved children faced a harsh life. Mothers worked through pregnancy, and many babies did not survive their first year. Enslaved women often had to leave their newborns to work in the fields or to nurse the children of their enslavers. Once the children grew, they could be sold away.
Generations of Enslavement
Enslaved mothers gave birth to enslaved children. However, the men, women, and children who endured slavery passed on much more. Enslaved families made their children's lives more bearable by fashioning furniture, clothing, quilts, and toys out of available materials. With each generation, they left powerful lessons about what mattered most. What people share, and how they share, deeply impacts the future. Through their stories, songs, memories, and personal artifacts, they proved that the human voice lives on. They showed that the love of family, friends, and strangers heals.
"During slavery it seemed like your children belong to everybody but you," Caroline Hunter recalled. Delia Garlic agreed. "I could tell you 'bout it all day, but even then you couldn't guess de awfulness of it."
Life
Adults taught children that one of the greatest acts of resistance was to embrace the joys life can bring. They taught self-esteem and self-expression, in part, through adornment. Taking a small cut of inexpensive cloth, they sewed fine clothing to reflect their sense of self-worth. They made necklaces by piecing together seeds and dyeing them rich colors. Food, stories, songs, and prayers all taught children who they were and how much they were loved.
Bills of Sale are legal documents that record the transfer of property from one person or group to another, including the purchase and sale of enslaved African Americans. These documents often identify enslaved men, women and children by name and estimated age. Bills of sale also identify enslavers, lawyers, and government officials participating in the sale of African Americans as human property.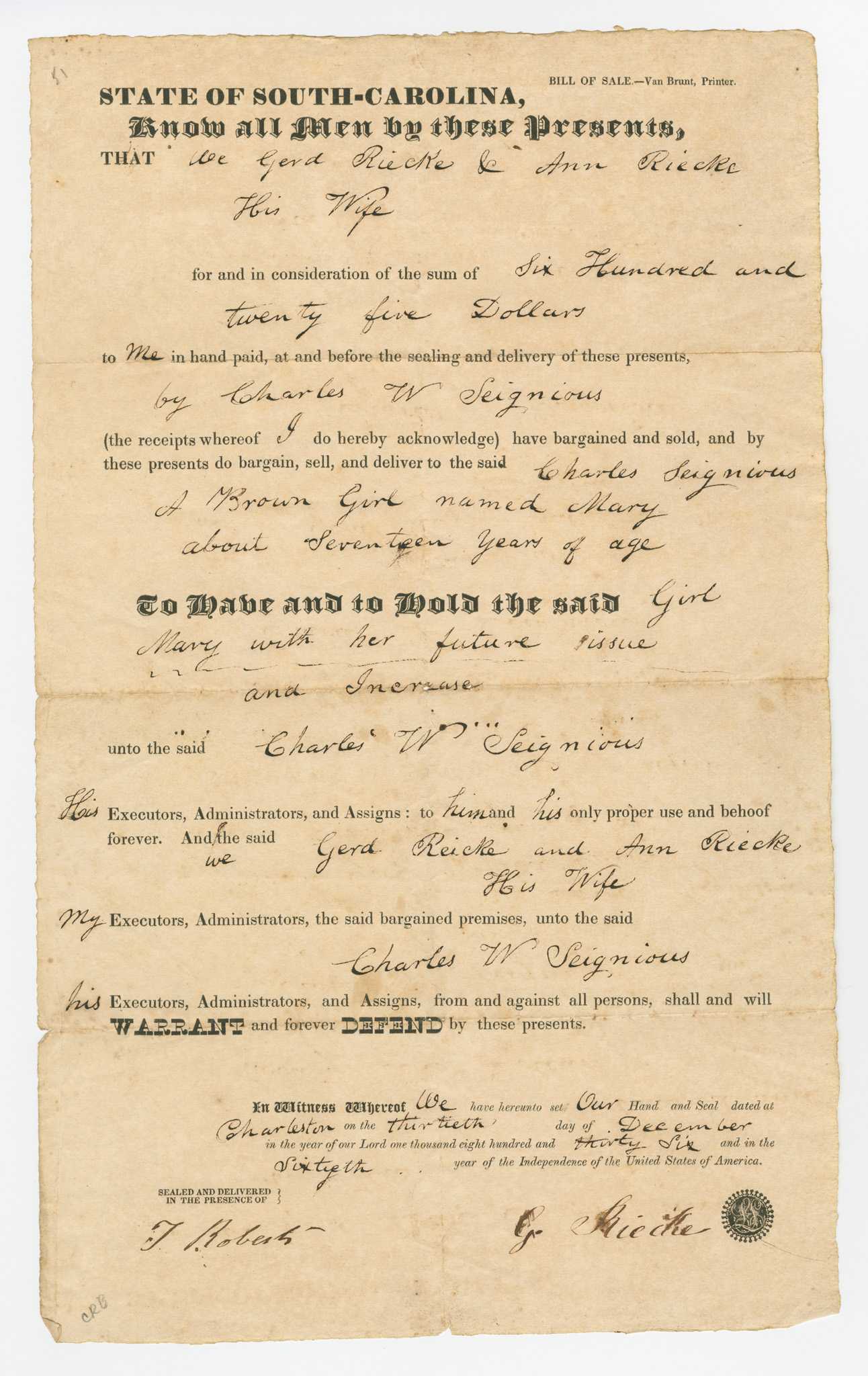 Work
Women were valuable on the slave market because of their sexual and reproductive potential. Enslaved women who demonstrated the ability to give birth brought high prices. Young women and girls marketed as sex slaves or fancies to white men sold for as much as five times the amount as field hands.
"A slave girl was expected to have children as soon as she became a woman. Some of them had children at the age of 12 or 13 years old."
Hilliard Yellerday, c.a. 1937
Enslavement
Enslaver Dr. J. Marion Sims became famous as the father of American gynecology. Sims made his fortune after experimenting on ten enslaved women over four years without using anesthesia. He operated on Lucy, Anarcha, and Betsy multiple times, demonstrating complete disregard for their dignity and pain. Medical experimentation on enslaved African Americans was commonplace.
Emmaline, purchased at age 14 in New Orleans, was a wedding present for wealthy enslaver William Montgomery's 16-year-old bride. As an enslaved woman she was forced to nurse and raise 14 Montgomery children, also considered her enslavers. This image of Emmaline helps to humanize the story of so many enslaved African American women who were commodified, subjected to physical violation, and deprived of their womanhood.