Skip to Content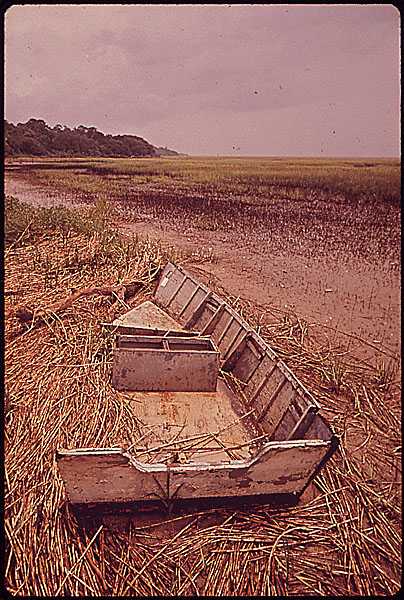 The Water Spirit Will Take Us Home
Arrival
In 1803, approximately 75 western Africans, many from the Igbo people in modern day Nigeria, were forced across the Atlantic on the slave ship Wanderer. They arrived in Savannah, Georgia, where they were purchased by slave traders for work on plantations on the nearby St. Simons Island, one of the Sea Islands off the coast of Georgia. The enslaved captives were then re-embarked on the Schooner York. However, they would not labor on St. Simons. The captured Igbo rose up in mutiny against the crew. They drowned their captors, commandeered the ship, and docked at what is now Dunbar Creek.
A Freedom March
After docking the commandeered ship, the Igbo, directed by their high chief, marched ashore. They chanted and sang of their distant home. They walked into the marshy waters of Dunbar Creek, their chains binding them together as they committed the largest known mass suicide of enslaved persons. Of the 75 Africans who walked into the water, 13 bodies were recovered, some people were recaptured and sold into slavery, and others remained missing. Much of what we know of the mass suicide at the site called Igbo Landing today comes from the written account of Roswell King, a white overseer, who, along with another white onlooker, recovered some of the drowned bodies. Though records of its history remain sparse, what came to be known as Igbo Landing has garnered cultural importance as it was retold and mythologized over the past two centuries.
They could fly, they could flyThey could slip the bonds of earth and rise so highThey could fly across the oceanTogether, hand in handSearching, always searching for the promised land.
Rhiannon Giddens, We Could Fly, 2017
A Lasting Legacy
The history of the mass suicide at Dunbar Creek, referred to today as Igbo Landing both in place and event, endures through oral histories, particularly for the Gullah Geechee community. The descendants of the determined, self-emancipated enslaved Africans have resided on the Sea Islands of the southeastern United States for generations.
Igbo Landing holds symbolic importance within African American folklore as a powerful and evocative story of resistance against enslavement. It inspired tales of Africans flying or walking on water to return home. It is the impetus for numerous African American cultural works including Toni Morrison's Song of Solomon, Julie Dash's Daughters of the Dust, and Beyoncé's Lemonade. As the myths, legends, and oral histories surrounding the event persist, the truth endures at the center of it all— freedom by any means.