Skip to Content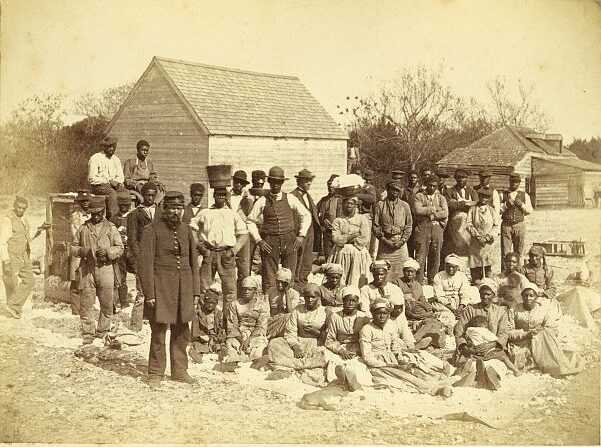 African Americans fought slavery and inequality in ways large and small, from open rebellion to subtle acts of resistance. Using connections—family, neighbors, worship services, and formal political conventions—African Americans shared news, created networks, and developed strategies for "making a way out of no way." State and local governments responded with "black codes" and "slave codes," race-based laws that attempted to restrict Black lives. African American persistence and grassroots organizing still serve as a model for social activists today.
Harriet Tubman: Seizing Freedom
Known as a slight and delicate girl, Araminta Ross grew up to change her name and become Harriet Tubman (ca. 1822–1913), one of the nation's most courageous antislavery activists. Born on Maryland's Eastern Shore, Tubman refused to accept enslavement for herself or others. As a young woman, she ran for freedom, making her way up Maryland's Eastern Shore to Philadelphia. She returned to the South nine times to guide others to freedom. Over her lifetime, she helped free hundreds of enslaved people. England's Queen Victoria gave Tubman this shawl around 1897 in recognition of her work.
The Underground Railroad
The Underground Railroad was a secret network built upon local knowledge and resources. Black people had long relied upon one another's skills, courage, and strategic insights to escape from enslavement. By the antebellum period, growing interracial efforts helped to secure freedom for a number of enslaved people and provided a coalition for the antislavery movement.
The Underground Railroad was not an actual railroad, but a path to freedom for self-liberation. Fugitive enslaved people moved along routes that included safe houses, leading north to Canada or south to Mexico and the Caribbean.
This map shows the general direction of movement from slave states to free territory, including terrestrial and maritime networks closely monitored by slave catchers. Conductors, like Harriet Tubman, risked their lives to emancipate African Americans throughout the South. Despite numerous precautions and the help from abolitionists, danger was always present.
There was one of two things I had a right to, liberty, or death; if I could not have one, I would have the other . . . I should fight for my liberty.
Harriet Tubman to Sarah Bradford, 1886
Harriet Tubman's Hymnal
A fiercely religious woman, Tubman spoke of visions and dreams that helped provide a moral compass throughout her life. The wear-and-tear on this hymnal suggests that she must have loved it and used it quite frequently.
Runaway Broadside
Against great odds, enslaved African Americans escaped. They ran to family, to friends, or across borders to freedom. A runaway risked brutal punishment and retribution against loved ones left behind.
I could be called a 'conductor' on the underground railway, only we didn't call it that . . . we just knew there was a lot of slaves always a-wantin' to get free, and I had to help 'em.
A Mother's Sacrifice
Margaret Garner was born enslaved on Maplewood Plantation in Boone County, Kentucky. After giving birth to three children fathered by her enslaver, Margaret escaped to Ohio with her children and husband, Robert.
They crossed the Ohio River on foot from Kentucky, stopping at a relative's house in Cincinnati before continuing the journey to Canada. However, what was supposed to be a rest stop became a standoff when federal marshals accosted the home. As Robert defended his family with just a pistol, Margaret would make a choice that still remains deeply polarizing and hauntingly powerful. Deciding that death was better than a life of enslavement, Margaret killed her two-year-old daughter, Mary, and attempted to kill her other children and herself.
Margaret Garner's story inspired this painting and Toni Morrison's Pulitzer Prize-winning novel, Beloved.
Risking Death for Freedom
Many enslaved people ran away, but few made it to freedom. The path was too treacherous, and the cost too dear. This painting entitled "The Hunted Slave" was painted by Richard Ansdell in 1861. It depicts an enslaved couple escaping to freedom. They fight for their freedom and their lives as the husband beats back slave hunting hounds.