Skip to Content
Henry Boyd's Manufacturing Company
Born enslaved, craftsman Henry Boyd purchased his freedom and built a successful furniture factory in Cincinnati, Ohio.
Henry Boyd
Born into slavery in Kentucky, craftsman and entrepreneur Henry Boyd (1802–1886) became one of the most successful African American businessmen of the 19th century. From 1836 to 1863 his furniture factory in Cincinnati, Ohio, supplied hotels and households throughout the South and West with "Boyd's Bedsteads," wooden bed frames that were popular for their solid yet easy-to-assemble design. Boyd's experience illuminates the economic contributions of Black entrepreneurs and their role in the struggle for racial equality.
African Americans in Cincinnati: Opportunity and Exclusion
As a skilled carpenter, Henry Boyd earned money to purchase his freedom from his enslaver in Kentucky and migrated to Cincinnati, Ohio, in 1826. Although Ohio was a free state, Boyd and other free African Americans still confronted racial barriers. Restrictive laws, known as Black Codes, denied African Americans access to public education and other basic civil rights. Black workingmen were often excluded from skilled professions, such as carpentry. But a number of Black artisans and entrepreneurs managed to succeed with the aid of abolitionists and other white patrons. Black Cincinnati residents also pooled their resources to launch cooperative business ventures, including a steamboat company and a real estate investment firm.
This newly invented Bedstead is warranted to be superior to any other ever offered in the West.
Advertisement for Henry Boyd's Bedsteads, 1840
Boyd's Bedsteads
In the 1830s, after first saving enough money to purchase the freedom of his enslaved brother and sister back in Kentucky, Henry Boyd established his own furniture shop in Cincinnati, Ohio. He specialized in the manufacture of bedsteads, which were advertised as quick and easy to assemble, sturdy, and vermin-proof. Boyd's patented design employed an innovative technology—double-threaded rails that screwed into the bedposts, strengthening the frame and making the beds relatively easy to assemble and ideal for travel. Boosted by testimonials from leading citizens, Boyd was soon shipping his famous "Patent Bedsteads" to customers throughout the South and West. To meet the growing demand, Boyd introduced steam-powered machinery that enabled his factory to produce over 1,000 bedsteads a year by the mid-1840s.
The Boyd Bedstead
In 2012, the National Museum of African American History and Culture acquired a bedstead manufactured by Henry Boyd, one of only a few examples of his famous furniture known to survive. Select details to learn more.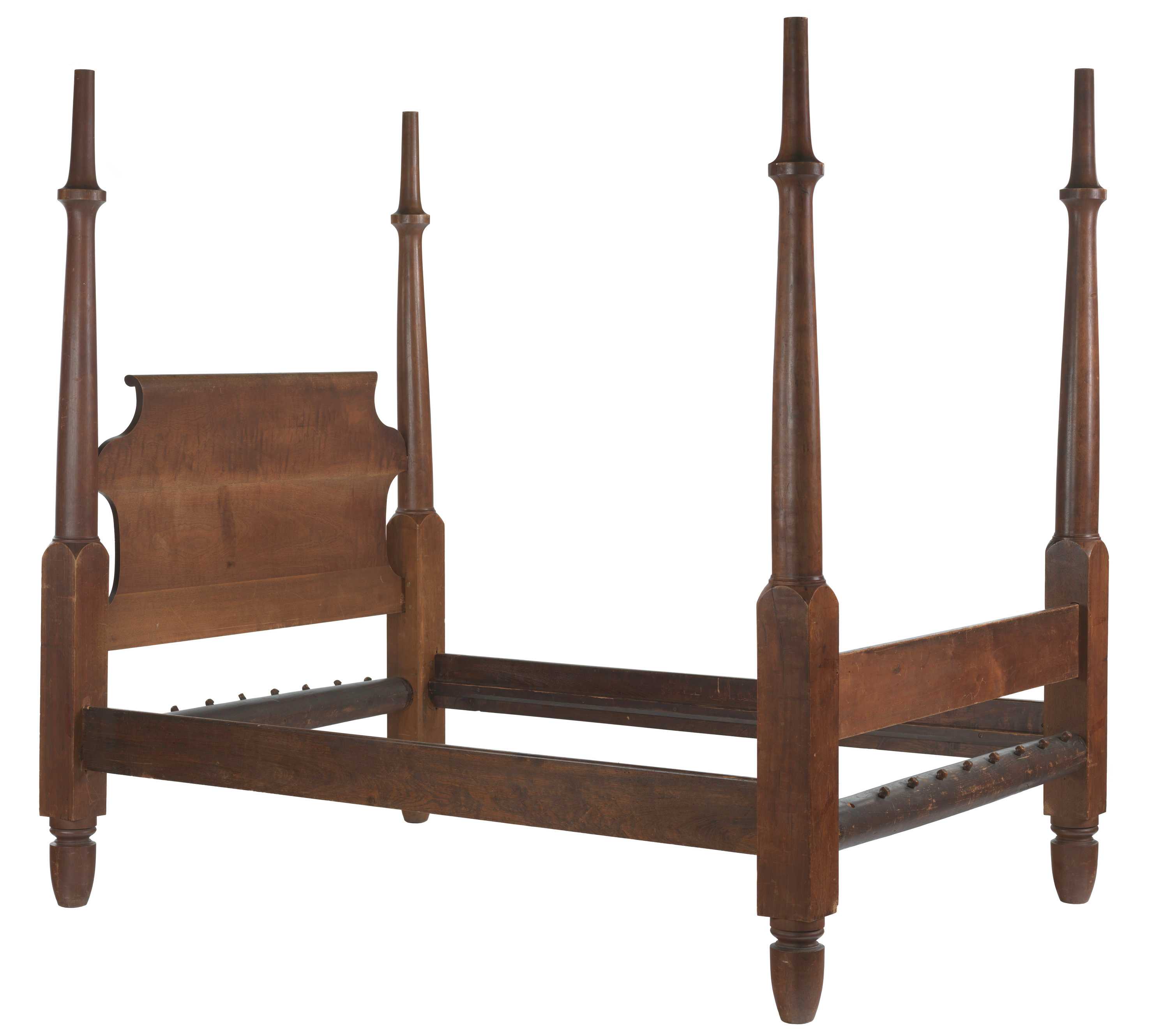 Burned Out
Henry Boyd was able to build a successful business in large part because of the professional and political relationships he cultivated with the white community in Cincinnati. Abolitionists celebrated Boyd's achievements and held him up as a model of Black ingenuity and enterprise. But his success also sparked resentment from working-class whites and those supportive of the slavery system. Although Boyd sought to reduce racial tensions by employing both white and Black workers, his factory was repeatedly targeted by arsonists. He rebuilt twice, but after the factory burned a third time in 1863, he was unable to obtain fire insurance, and had to close his furniture business. Boyd continued to work as a carpenter until his death in 1886.